---
More exhibitors for the 2023 Festival will be shown here soon.
---
Cwmstwrdy Fibre Farm
Fine mohair and wool from my Angora goats and Bowmont and Shetland sheep. Raw and washed fibre, spun yarn in natural colours and plant-dyed ready for all your crafting projects.
Handwoven and knitted items such as cushions, blankets, scarves, hats and socks using my own fibre and re-homed commercial yarn. To find out more click here.
---
Ali Scott
Ali is an experienced feltmaker with a passion for transforming fleece into vibrant felt 'paintings'. Inspiration comes from a delight in the natural world, local landscape, trees and dwelling places.
Ali exhibits widely and has work in several private collections in the UK and abroad. She is a member of The International Feltmakers Association, Ceredigion Art Trail and Origin, Carmarthen.
More information on Ali and how to contact her can be found here.
---
Samantha Boulanger
Samantha has been working as a freelance artist and self-taught seamstress, also known as 'The Accidental Up-cyclist' since 2007. Previously focusing mostly on recycled textiles, a forager and rescuer of 'all things fabric', trying to save unwanted clothing and textiles from ending up in landfill. Creatively revamping and recreating them into unique, funky up-cycled eco finery, giving each item a new lease of life. To find out more about Samantha's work, click here.
---
Wendy Thorner (Mid Wales Willow)
I started my business, Mid Wales Willow, 15 years ago with the help of my husband Graham, and have since travelled the country, appearing at numerous exhibitions and events as well as publishing four basket making books. We grow all our own willow and make all our baskets, dragonflies and other fun stuff. You can find out more about us and contact us here.
---
Aphaea
I'm all about doing what feels good and comes naturally. I get a lot of inspiration for colour from my allotment and surrounding countryside here in mid Wales. I'm very lucky to live here and be inspired every day. To contact me or find out more click here.
---
Tania Oakshott (WekiWool)
Handspun art yarns; also a range of hand-made bags or clothing items made from the handspun yarns. You can see more here.
---
Penlon Studio
Handcrafted in Wales. Nestled in the Cambrian Mountains of mid Wales, Penlon Studio is a husband and wife team creating individual pieces of art handcrafted from native hard woods. Our timber is locally sourced from Wales and the Welsh borders from managed woodlands. Every item we make is unique and its form is dictated by the wood itself. Each piece is stamped with a date of creation and unique identifier, then finished with a light natural oil or wax to enhance the natural beauty of the grain and to protect the wood. See more here.
---
Border Bears
I specialise in the production of fine fleeces, in a variety of colours, for sale to hand-spinners and felt-makers. In order to ensure that I can keep my sheep in the manner to which they are accustomed, I also use their wool to spin, felt and needle felt a range of woollen articles for sale. These include hand-spun yarns, sturdy shopping bags, slippers, cushions, personalised place-mats and all sorts of small needle-felted creatures. I also enjoy running needle-felting workshops and doing my best to convince the world of the merits of wool. Find out more here.
---
Wittering Sheep
Who we are: a crafting family with three generations (13 to 76 years of age), spanning Wales and The Potteries. Our skills: knitting, crochet, felting, spinning, hot textiles, re-cycling and wood craft (restoration, turning, carving). Our commitment: to use British natural materials wherever possible, plus colourful commercial materials for variety and interest. Our mission: to promote the old crafts, to promote handicraft as therapy, to use simple form i.e. form follows function. You can find out more here.
---
Wildwoven
You can find out more about us here.
---
Sasha Kagan
Established in Mid Wales in 1984, Sasha Kagan Knitwear offers hand knitted designer sweaters, coats, jackets, accessories and home furnishings. Sasha has authored 7 books of knit and crochet design, she teaches at West Dean College Chichester and on Stitchtopia holiday retreats. She is a long time patron of The Knitting and Crochet Guild and her mission is to promote hand knitting and crochet as mediums for creative expression.
You can find out more here.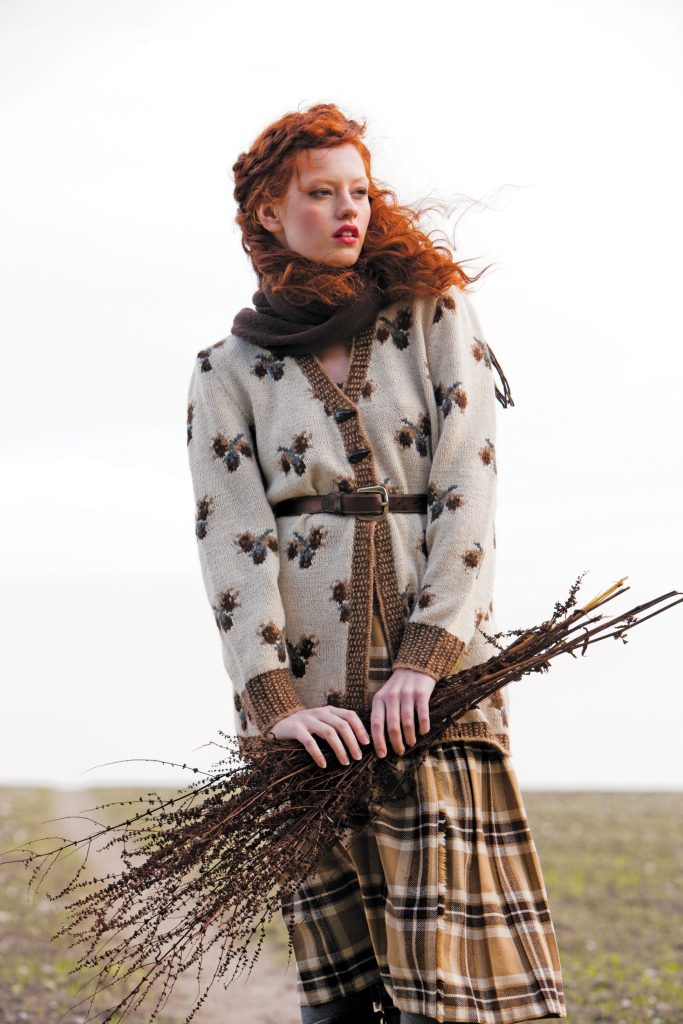 ---
Anneli Thomas
NORDIC HANDWEAVING My interest in the magical woollen fibre manifests itself in the weaving and knitting of useable items for the home or wardrobe. I'm influenced by traditional Nordic weave structures and knitting patterns as this is part of my cultural heritage. All my items are one offs and I design when sit by the loom, trying out colours and combinations. Sometimes I incorporate my own hand spun and naturally dyed yarns. For the knitted items I use Shetland wool. More often than not I enjoy giving my items to my children and grandchildren as well as selling some at a couple of local fairs.
---
Woolly Wales
Sara is a wool producer, dyer, spinner, and weaver.
She uses fleece from her own flocks of sheep, and also sources some from other Welsh farmers and smallholders.
At the festival she will have fully traceable wools available, from raw fleeces and processed breed-specific fibre (dyed & undyed), to hand-spun yarns and mill-spun yarns (hand-dyed & undyed). She also stocks wooden jumbo knitting needles & crochet hooks, and wooden drop spindles.
Find out more about Sara here.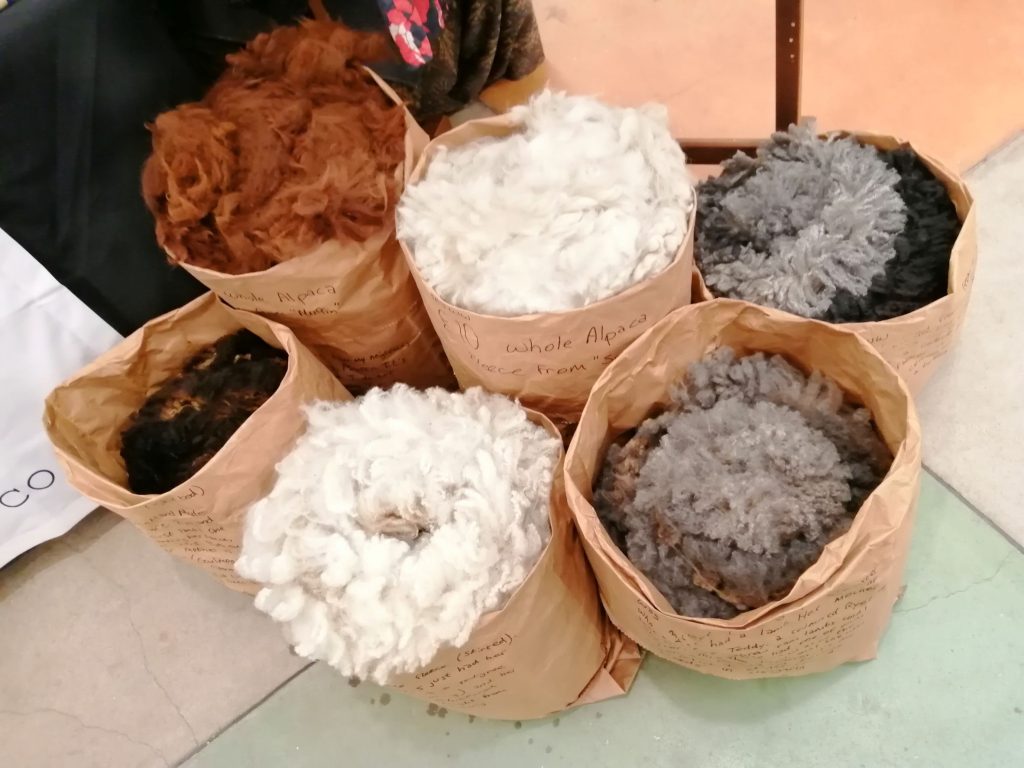 ---
Beryl Smith
Beryl Smith has been a Wool & Willow Artist for more than 45 years and produces beautiful woven scarves from wool & other fibres, some being natural Ikat dyed and rugs from natural local sheep's wool, trading under the banner of Crafts Mid Wales. Willow has also been one of Beryl's main areas over the years, working in both dried willow and living willow to create baskets, willow sculptures and numerous living willow structures around the UK.
Commissions undertaken and courses can be tailored to your specific needs.
You can find out more about Beryl here.